Anyone struggling with the EU GDPR (General Data Protection Regulation) should look no further than ISO 27001. It's the international standard for information security. The ISO 27001 framework is close enough to the Regulation's that many experts consider it a perfect launchpad for a GDPR compliance project.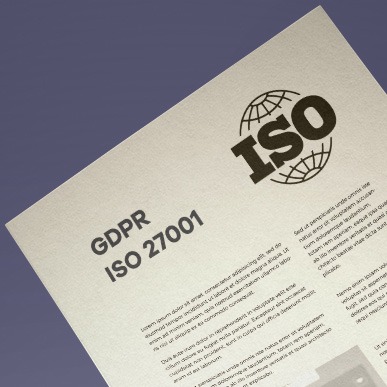 Certifying to the Standard means you're already halfway to GDPR compliance Also, you'll experience the general benefits of ISO 27001 certification. Unlike the GDPR, ISO 27001 provides clear instructions on the steps you need to follow in order to stay secure.
How ISO 27001 helps
ISO 27001's requirements overlap with the those outlined in Article 32 of the GDPR.
Take measures to pseudonymise and encrypt personal data.
Ensure the ongoing confidentiality, integrity, availability and resilience of your processing systems and services.
Restore the availability and access to personal data in a timely manner in the event of a physical or technical incident.
Implement a process for regularly testing, assessing and evaluating the effectiveness of technical and organisational measures.
Article 32 also mandates that organisations address risks that could lead to the "accidental or unlawful destruction, loss, alteration, unauthorised disclosure of, or access to personal data".
An effective ISMS (information security management system) that conforms to ISO 27001 will meet all these requirements. Talk to us today without obligation and let's explore the options.
Want to know more?
Whether you have begun your GDPR journey or not, we can help align you to the ISO 27001 framework, This will help you get your GDPR on track. Therefore, we will help you on your journey to ISO 27001. This will save you time and money in the long run.
We are here to help so please call us on 03333 22 1011 or book a call with us here. Alternatively you can contact us here.