ISO 45001 is the international standard for occupational health and safety at work developed by the International Standards Organisation that are independent of government.
Introduced in March 2018, the new standard replaces the current standard (BS OHSAS 18001) which is being withdrawn. Businesses have a three-year period to move from the old standard to the new one. We can now offer a migration service to assist you with this.
You're not required by law to implement ISO 45001 or other similar management standards. However, they can help provide a structured framework for ensuring a safe and healthy workplace which is very important in the current climate.
If your organisation is small or low-risk, you'll probably be able to demonstrate effective risk management without a formal management system. A simpler approach may be more appropriate such as that outlined on our health and safety page.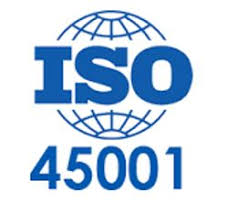 HSE's view of ISO 45001
Implementing ISO 45001 may help your organisation demonstrate compliance with health and safety law. But, in some respects, it goes beyond what the law requires, so careful consideration should be given to this. What the standard does demonstrate is that your company care about the working environment and its employees.
Has your organisation already developed health and safety management structure? Perhaps you are familiar with other management standards? If so, it can be straightforward for you to adopt ISO 45001. However, if your organisation is small, with less formal management processes, you may find it difficult to interpret what the standard requires and be able to gauge what proportionate implementation looks like.
However, this is where we can help you. We will help you interpret the requirements and implement the standard into your business.
Health and safety law compliance
HSE inspectors will continue to rely on a wide range of evidence and observations when assessing an organisation's compliance. This is not just compliance with health and safety law, but whether they claim to meet the ISO45001 standard.
A management system approach
HSE's guide on managing for health and safety (HSG 65) may help your organisation as it provides a clear process-based approach to risk management. However, adopting a formalised management system approach, be it HSG65 or ISO 45001, needs consideration to understand which is the most appropriate.
Certification to the Standard
You can can apply to be certified to the standard (in full, or in part) to help provide evidence of good health and safety management. You can use the standard to show what improvements made, without getting certification. However, you can only claim to conform to the standard if it's implemented fully.
ISO 45001 Audit
When implementing ISO 45001, it must be proportionate. Our team of internal auditors (see our Internal Auditor as a Service) will ensure that this site case. This is assessed based on the size of your business and its complexity. This is then assessed in proportion to the risks
Our team of auditors are competent and qualified to a recognised standard, such as ISO 19011:2011 or the relevant parts of the ISO 17021:2011 series.
The certification body should be accredited by either the United Kingdom Accreditation Service (UKAS) for ISO 45001 or an equivalent accretion body. Such a body should be a member of the European Cooperation for Accreditation (EA) or the International Accreditation Forum (IAF).
Your next steps
The services we offer are:
ISO 45001 Initial Assessment Service
ISO 45001 Implementation Service – both full and part service
ISO 45001 Internal Audit as a Service
ISO45001 Consulting Service
ISO 45001 Staff Training And Awareness Program
ISO 45001 Pre-certification audit
Would you like to know more?
You can call us on 03333 22 1011 between 8am and 6pm Monday to Friday. Alternatively, you can contact us here or book a free initial consultation directly here.