In July 2016, the EU issued the eIDAS regulation, which increased the significance of electronic signatures drastically. However, under the current circumstances, the value of signing documents online is higher than ever before.
What is an electronic signature?
The electronic signature serves as a piece of evidence. Both business people and private individuals can conclude legal transactions. This would otherwise require a handwritten signature. That might mean a trip to the bank or offices in question. Companies are able to offer a fast and on-the-go verification, and conclusion of the contract according to their customer's schedule.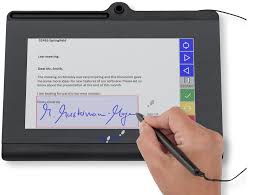 Are there different types of signature?
Yes, there are three types:
The first is known as a Simple Electronic Signature – normally seen on emails and doesn't need to meet any specific requirements. You can sign an email with your own signature.
The next type is the Advanced Electronic Signatures. These are better known as AES. However, they do need to meet certain requirements. An AES needs the signatory to be identifiable using a verification key or their signature. Therefore, this type of signature is more authentic than a simple electronic signature.
However, the highest requirement are specified for Qualified Electronic Signatures (QES). This type of signature requires a signature card and a reader together with suitable signing software. A solution of this type can be server or cloud-based. A QES requires the secure identification of the applicant.
Why use electronic signature technology?
Using this will help streamline your process and save you time and money. For example, no more printing, signing and scanning of contracts. No storage of paper copies and reduced handling time. You can also track documents that are awaiting signatures. Therefore there is no loss of business or delays in getting a contract started.
Electronic signatures generally increase client satisfaction as well as employee satisfaction as it is a much more efficient way of doing business.
If you want to know more about how we can help with this, please call us today. Half of the businesses in the UK use this technology in their business and another third plan to according to a report by London Research.
If you would like to know more about our document management platform, please call us on 03333 22 1011 or contact us here. You can find out more here.