PECR is the Privacy and Electronic Communications Regulations. The full title is The Privacy and Electronic Communications (EC Directive) Regulations.
They are derived from European law. they implement European Directive 2002/58/EC, also known as 'the e-privacy Directive'.
The e-privacy Directive complements the existing data protection regime and sets out more-specific privacy rights on electronic communications. It recognises that widespread public access to digital mobile networks and the internet opens up new possibilities for businesses and users, but also new risks to their privacy.
PECR have been amended four times. The most recent changes were made in 2015 to allow emergency text alerts. Also, this made it easier to take action for breaches of the marketing rules. In 2016, to require anyone making a marketing call to display their number. This guide covers the latest version of PECR, which came into effect on 16 May 2016.
PECR cover several areas:
Marketing by electronic means, including marketing calls, texts, emails and faxes.
The use of cookies or other tacking technologies that track information about people accessing a website or other electronic service. See the Cookies and similar technologies section of this guide for more information.
Security of public electronic communications services.
Privacy of customers using communications networks or services as regards traffic and location data, itemised billing, line identification services (eg caller ID and call return), and directory listings.
What action can the ICO take to enforce PECR?
The ICO has several ways of taking action to change the behaviour of anyone who breaches PECR. They include criminal prosecution, non-criminal enforcement and audit. The Information Commissioner can also serve a monetary penalty notice imposing a fine of up to £500,000.
These powers are not mutually exclusive. They will use them in combination where justified by the circumstances.
Money Laundering Regulations
If you run a business in the financial sector, you may need to sign up to an anti-money laundering scheme. 
Some businesses and individuals in the UK must register with a supervisory authority to follow anti-money laundering regulations.
The regulations apply to many business sectors, including:
financial and credit businesses
independent legal professionals
accountants, tax advisers, auditors and insolvency practitioners
trust and company service providers
estate agents
casinos
How to apply
Therefore, you must register with the supervisor that regulates your industry sector. You're breaking the law if you carry on a business activity covered by the regulations, but don't register with a supervisory authority.
Click here for the latest news on the GDPR.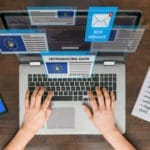 POPI (Act) – South Africa
LODPD (Ley Orgánica De Protección De Datos Personales) – Equador
LGPD (Lei Geral de Proteção de Dados) – Brazil